First off, I finally met/hung out with the famous Keesean from http://yuhdigg.blogspot.com/ . He goes to my school and has been kind of this elusive figure. We've chatted on facebook and I always thought he'd be an interesting person to befriend, and then last night we finally met and spent an extended period of time together! Very exciting.
Here's my outfit from today:
I am quite in love with those red tights.
I've been on this weird 60s kick lately. I watched "I'm Not There", "Factory Girl", and "Across the Universe". I've been listening to The Beatles, Bob Dylan, and Jimi Hendrix (and I'm in the process of downloading some Janis Joplin). Needless to say, I've become fascinated with Edie Sedgwick and I decided I'm going to go as her for halloween (obviously I will post pictures of how that outfit turns out)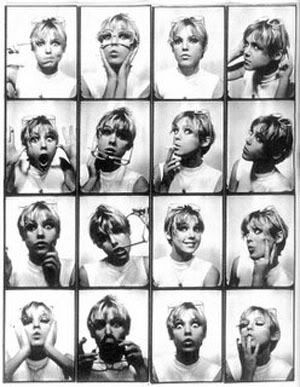 She is just SO SUPER CUTE! And I have a weird fascination with tragic females, so she fits in beautifully. I've watched some youtube clips of her and she just seems like such a wonderful person to have been around. She was so full of personality and charm. I really adore her.
I know I've been promising to do Milan and Paris fashion week coverage for a while but I've just never got around to it, and now I am not sure where Milan ends and Paris begins. So I'm going to do the things I have prepared now and then go back over the rest later.
Balmain ss 09
ROCK CHIC. The fantastic shoulder-padded, glitzy military style jackets from this collection are so badass. They remind me of something Bowie would wear! I am not 100% a fan of the big shoulders but I think they work for this collection and Lady Gaga would LOVE this shit (I effing love Lady Gaga, by the way). The dresses are definitely red-carpet worthy (Grammys, MTV awards maybe?) and I think they would look great on someone like Rihanna or Pink. I would totally wear all these things!
Cavalli ss 09
Overall, I really liked this. A few of the pieces were very lolita-esque (like the first two outfits up there), some things looked like dutch tiles (third and fourth outfits), some things kind of hippie esque (fifth outfit) and then those big, poofy red-carpet dresses (sixth outfit). Somehow, the collection had all those different elements but it was still presented in a very cohesive manner. I kept trying to imagine Victoria Beckham in all these outfits. Some worked, some didn't, but in general I thought the collection was really lovely and very wearable.
Ann Demeulemeester ss 09
God, how FANTASTIC. I love how reconstructed and disarranged everything looks. It looks like someone took a sheet, cut it up and tied it together, but it's still totally chic and fierce as hell. It made me think of Jane from
Sea of Shoes
and her fierce ass Ann D. boots:
Amazing, right? I'm really into Ann D. and I think this collection was totally badass.
Lacroix ss 09
In the words of the fabulous Rachel Zoe: I DIE. This collection was AMAZING. Honestly, I just thought all of this was crazy good. I mean...:
BANANAS. ABSOLUTE BANANAS. Theres no other way I can describe it. I'm in love.
Lagerfeld ss 09
Okay, I LOVE Uncle Karl. The sophisticated, almost architectural silhouettes are so classic and chic. I really really dig that crazy belt. What really did it for me though was the jewelry:
SO COOL. Plus, you gotta love Karl's narcissism:
Brilliant.
Versace ss09
DAMN DONATELLA. This collection was something that every woman would want to wear. The heart details were everywhere but it didn't seem overwhelming. What she did with the zippers was just genius (although reminded me a little bit of this dress from Project Runway winner Jeffrey Sebelia's finale collection:
)
But still. I mean, look at the details:
Really amazing up-close, right? I am really digging this. I want to see Miley Cyrus in that pink glitzy dress.
Viktor & Rolf ss 09
V&R was a little disappointingly, honestly. I mean, I appreciate the "wow" factor of some of the pieces, and they only used one model which was kind of interesting but maybe a little weird cuz she wasn't that pretty. I liked the makeup and some of the pieces were nice, but I was expecting more. Um, I like these shoes?
All in all, kind of eh.
More from Milan/Paris later!