My my! We have a lot of ground to cover.

Let's first discuss the second season premier of Gossip Girl!

Blair looks so fantastic in this white Marc Jacobs dress, Jennifer Behr headband (GG's resident headwear designer) and Chloe shoes. I actually really loved everyone's look for the White Party, minus those who chose to wear yellow or off-white. It looked so out of place! Why wouldn't you actually wear WHITE to a WHITE PARTY? Every time there was some variant, it drove me nuts. Dan is the only one I am prepared to forgive.
Other looks I liked:
Chuck at the White Party, looking wonderfully dapper. (as a side note, I am totally rooting for Chuck and Blair! Whatshisface may have a nice British accent, but who can resist Chuck Bass!)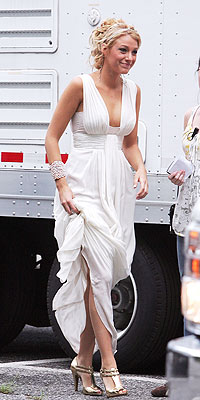 Serena looking very Greek goddess-like in Oscar de la Renta. I especially liked her hair: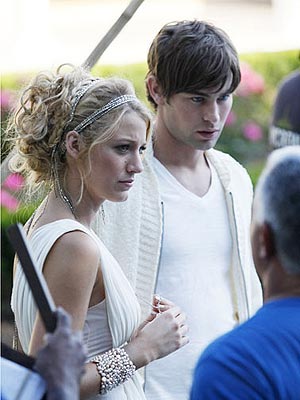 Lovely!
(all photos from thefashionspot.com)
In other news...NEW YORK FASHION WEEK HAS STARTED!!
This is BCBG RTW S/S 09
I thought this collection was sort of bland, but I really like the bright colors paired with the grey accessories. Everything was very flowy and silky looking and sort of young up-and-coming actress trying to look sexy-ish.
Rag & Bone RTW S/S 09
Generally I like Rag&Bone. This collection was sort of weird for me. The pants looked like they were cropped at the ankle which was just...odd. I liked the pieces in general, but the cut was just strange.
I LOVE those pants on the left, the dress in the middle was uniquely chic, and the shiny blazer is so rad! I want one! Very Mark Ronson
A lot of my favorite models were at this show, including the lovely Coco Rocha (featured on the right of that picture), Jessica Stam, Sasha Pivovarova, Anja Rubik, and hottie Cole Mohr!
More updates tomorrow!
xoxo